Reflections on some games I did see, including Burnley vs. Man. United and Everton vs. Chelsea, and some I wish I could have done                                                                                                                                                                                                                                                                                                                                                                                                                                                               Burnley 0-0 Man Utd:
Burnley's pressing was what made Manchester United uncomfortable.  On at least 2,   perhaps up to 4,  occasions in the first 20 minutes,  Burnley pressed the United back line into giving the ball away,  especially down the right hand side with Jonny Evans.
United had some interesting movement,  with Mata seemingly playing deeper than Di Maria as a ball regulator,  though this alternated substantially.  Di Maria's greatest contribution was arguably his long diagonal towards Van Persie,  bringing a save from Heaton.  This was move was executed when he was very deep,  unusually so,  rather reminiscent of Paul Scholes.  Though United fans will be glad to hear that Di Maria can do this,  I doubt that this is a accurate reflection of the player who excelled as carrilero for Benfica,  and a broadly shuttling role at Real Madrid,  especially more recently under Ancelotti.
Both United strikers were very eager to drop off,  which created some fluidity,   but absolutely no verticality whatsoever.  No movement in behind,  Valencia was most inclined.  Mata was disappointing in this regard,  he persistently showed reluctance to make forward runs,  instead (perhaps understandably) dropping off to control the midfield.  Di Maria was more inclined to making lateral movement to the left hand side,  with some promise.
Burnley played highly directly,  but not defensively,  they were high pressing,  direct towards both forwards,  played in what was essentially a 4411,  and let United attack in wide areas,  knowing that a) the delivery would not be great,  b)no-one is either making late runs nor are their static targets likely to challenge Burnley's limited (but fairly tall and decent in the air_ defence.
Jones being deployed in the centre was interesting,  don't know if it will be sustained.  Odd because Jones' carried the ball out rather well against Sunderland from the right,  was he wanted for a covering role,  or to provoke the ball from more central areas.
Everton 3-6 Chelsea:
What the hell!
A crazy,  crazy game.  What really stood out was not the attacking play,  the game actually got really bitty between 45-60 minutes,  but the clinical nature of the finishing.  When compared to the respective fixture last season,  in which Chelsea missed at least 3 decent chances in losing 1-0,  the contrast was stark.  Arguably only 1 really good chance went astray,  Costa's 1 vs 1 with Howard from the left hand side,  which was a highly accomplished save,  rather than a startling poor miss by Costa.
Everton's back 4 were unsophisticatedly targeted by Mourinho.  Runs in behind towards the right (particularly,  perhaps only towards the start of the game),  either behind Distin or Baines.  Worth noting that Fabregas,  despite being a nominal 10 for much of the game,  started out on the right wing (at least drifted out for the first 15 odd minutes),  and gave an awful choice to Everton (and one which is highly unnatural for them),  pressurise the ball and rise being played around,  or to drop off,  and risk inventive passes being played consequently ceding game control.  Everton did neither early on,  and paid a heavy price.
An interesting dynamic to the games defensive errors was the fact that Everton's errors were all relatively collective (Besic's horrible pass aside),  Chelsea's all different and individual (Ramires was horribly out of position for the first,  McGeady was allowed to move inside far,  far too easily, in general Naismith drifted in the lines overly effectively,  the third was slack marking by Ivanovic.
The whole unstructuredness of the game seemed odd.  Martinez surely knew that Chelsea's individuals are wonderful at exploiting open space down the flaunts,  yet he attacked in the main through them.  Coleman genuinely offered something useful,  Baines failed to do so,  from open play anyway.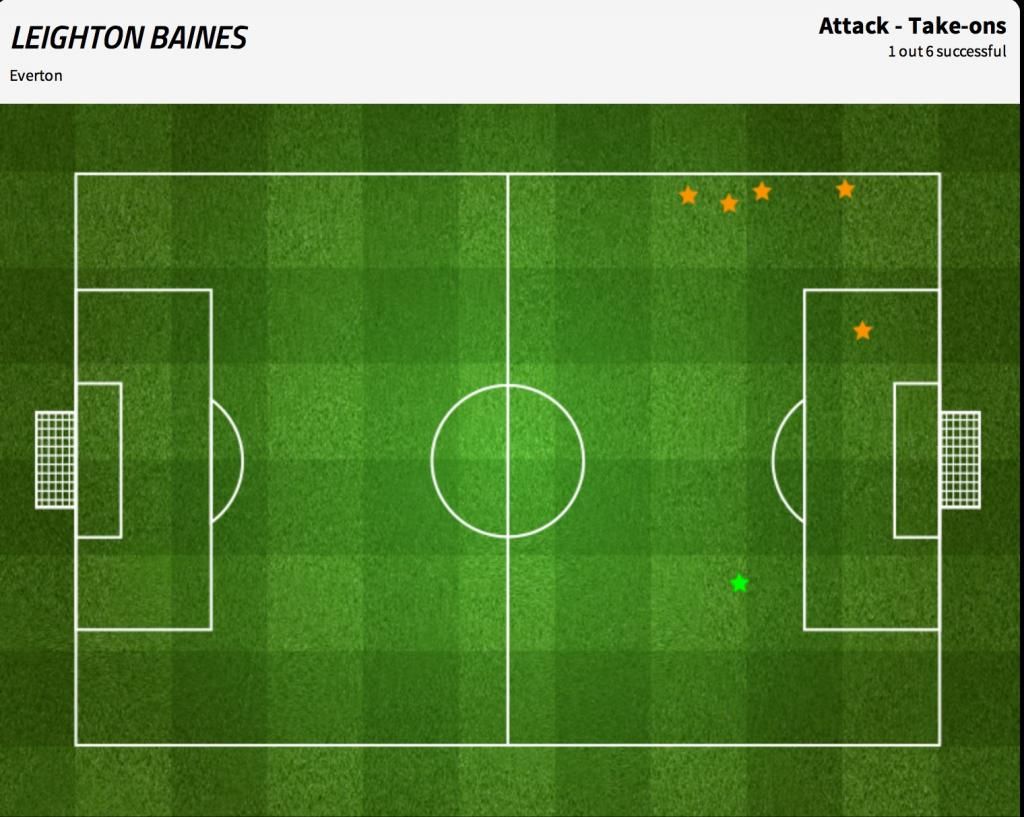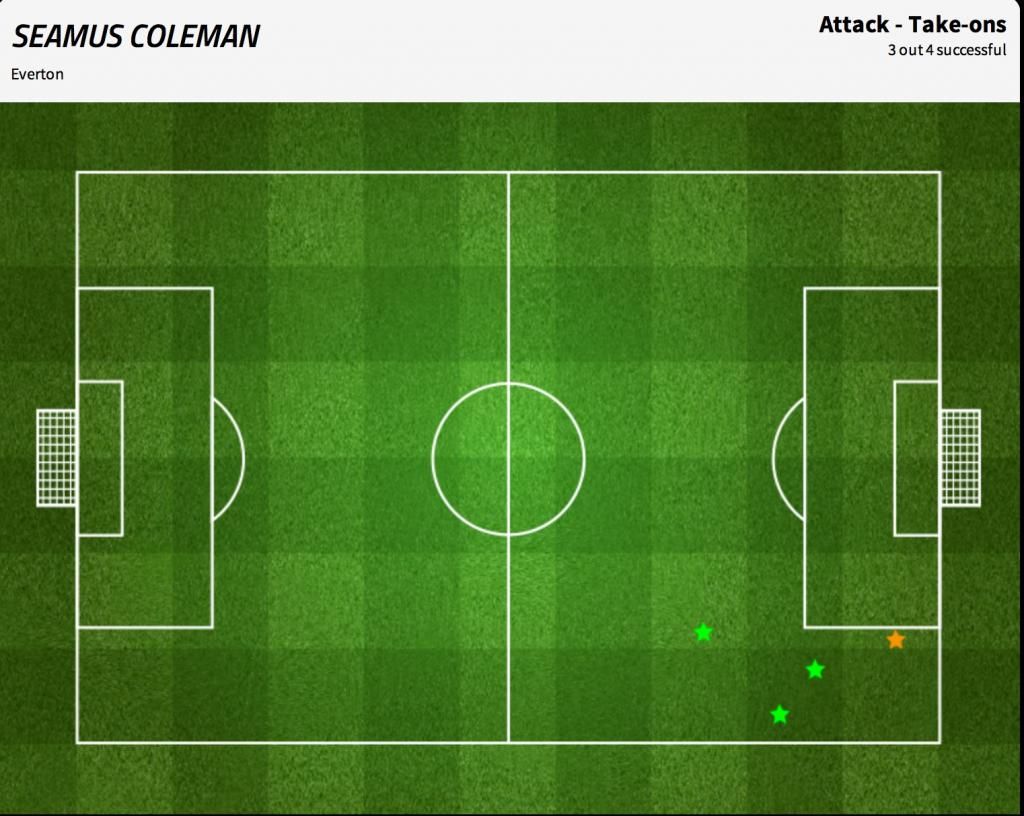 Costa's behaviour was totally unacceptable,  and counter-productive (2 yellows already).  He enjoys the 'hard guy' image overly much,  he needs to tone it down.  Unfortunately,  open verbal mockery (including discriminatory comments,  though obviously not in this case) are common in football,  it is risible to react to them.
I suggest that the two authors will disagree on this,  but Naismith has turned into a really useful player,  perhaps because of the increased wide threat of Lukaku from the centre-right.  Such a clever user of space,  good technique,  just lacks that bit of physique.  Has the art of dropping away from players and slowing down.
Speaking of dropping away from defenders,  Lukaku had one shot (a terrible one,  as it turned out) with really clever movement,  initiating play,  followed by dropping back 10 yards,  reinitiating his run,  before getting it back on the run from about 20 yards out and scuffing the shot.
Roma 2-0 Fiorentina (first half only):
What the hell was Montella doing.  He played a 4-diamond-2,  a midfield packed with narrow players not naturally adept at getting wide,  an full backs hardly accustomed to doing so (Alonso appears to from limited previous knowledge,  though more regularly from deep).  Yet played with two strikers who thrive on crosses.  Made no sense.
Roma on the other hand,  were highly interesting (if predictable).  4-3-3,  full backs making simultaneous runs forward,  De Rossi stabilising.  Totti made lots of interesting compensatory movement to the right hand side,  stationed just ahead of Alonso.  Gervinho was typically direct and powerful.  while possessing minimal end product (until,  he of course scored at the death).
From the little Ashley Cole had the ball,  he confirmed what many Chelsea fans have learned over the years.  With the exception of Arsenal (against who he ALWAYS got completed crosses in),  he is actually a rather poor overlapping full back.  If you give him the ball on the run,  fine,  but he rarely carves out a great ball from deep or when marked.  It is his movement that is really dangerous (and if he isn't occupied,  he can of course put good crosses in),  but he is rather easy to mark.  Though his ball retention skills are highly underrated.
Nainggolan was superb,  winning and then driving forward with (and past,  on occasion) the ball
Notable miscellaneous:
Leverkusen 4-2 Hertha Berlin (I didn't see it,  and am merely looking at stat's/contextual knowledge:
Roger Schmidt's impact is being felt.  The reason?  Look at the stats.  Leverkusen,  known more recently as a highly counter-attacking team,  had 62% of the possession.  Is this what is significant?  No.  Now check the passing completion rate.   Some would expect 85-80-75%.  They had 68%.  Essentially,   what this shows is the intensity they press with (how else could they achieve such high possession figures while completing so few passes),  and how vertically they play.  Nothing shows this better than Hakan Calhanoglu's two assist game coming with a 62% pass completion rate.  All this squares well with Schmidt's history as a pressing coach,  and their quite incredible 9 second opener against Dortmund.  
Man City 0-1 Stoke:
Having seen a highly selective match package on MoTD,  I must say that I was incredibly impressed by Stoke's compactness,  Silva had no space to drift,  Kolarov's overlapping only caused minimal problems.
Hart HAD to do better on the goal,  the ball went clean through his legs at no pace.  I also found it surprising that he was allowed to run past 2 players with such ease,  and indeed,  that Man City were not more cautious with the numbers they comitted forward,  considering Stoke's traditional proficiency at defending set pieces,  and Hughes newly enabled ability to play on the break with pace.
Stoke continue the pattern they have of doing extremely well against bigger teams,  but struggling to break teams down who are more conservative.  In trying to diversify to become more creative,  they have introduced players who thrive with quick attacking football,  preferably in lots of space (Arnautovic in particular comes to mind).  However,  they don't defend,  so if they fail to break lesser teams down,  break aways become important.  Steven Ireland could perhaps be interesting as a solution to this,  providing third man runs for an element of surprise against deeper sitting teams.
Tottenham vs Liverpool preview:
Probably the most 'interesting' match of the (Premier League!)  season so far tactically,  both managers dealing with new situations.
The key,  to my mind,  will be the performances of Eriksen and Lamela.  If Eriksen can move into and out of Gerrard's zone with fluidity,  with Lamela also drifting across it (though hopefully with more rigidity in starting from the right hand side),  preferably to pin back Moreno),  then I suspect that Gerrard will struggle to cope,  mobility is an issue for him).
Neither Vertonghen nor Kaboul is the absolute strongest player in the world (though I really have Vertonghen in mind).  If Mario Balotelli starts,  then he causes Spurs a rather large problem.  Play deep,  and Balotelli can receive the ball,  lay it off,  get into dangerous positions to attack crosses,  turn,  give ball to talented dribblers to attack both Tottenham full-backs.  Play high up,  however,  and you run the heavy risk of easy balls over the top to three quick,  clinical and (relatively) astute attackers.  If Spurs are to do this,  high pressing is a must,  a test of Pochettino's coaching skills,  considering the relatively short time he has had to implement such a system.
OW 30/8/14