Some thoughts on how United's tactics may stifle Chelsea,  and how Mourinho can counter-exploit such plans.
…
a)
The teams (predicted):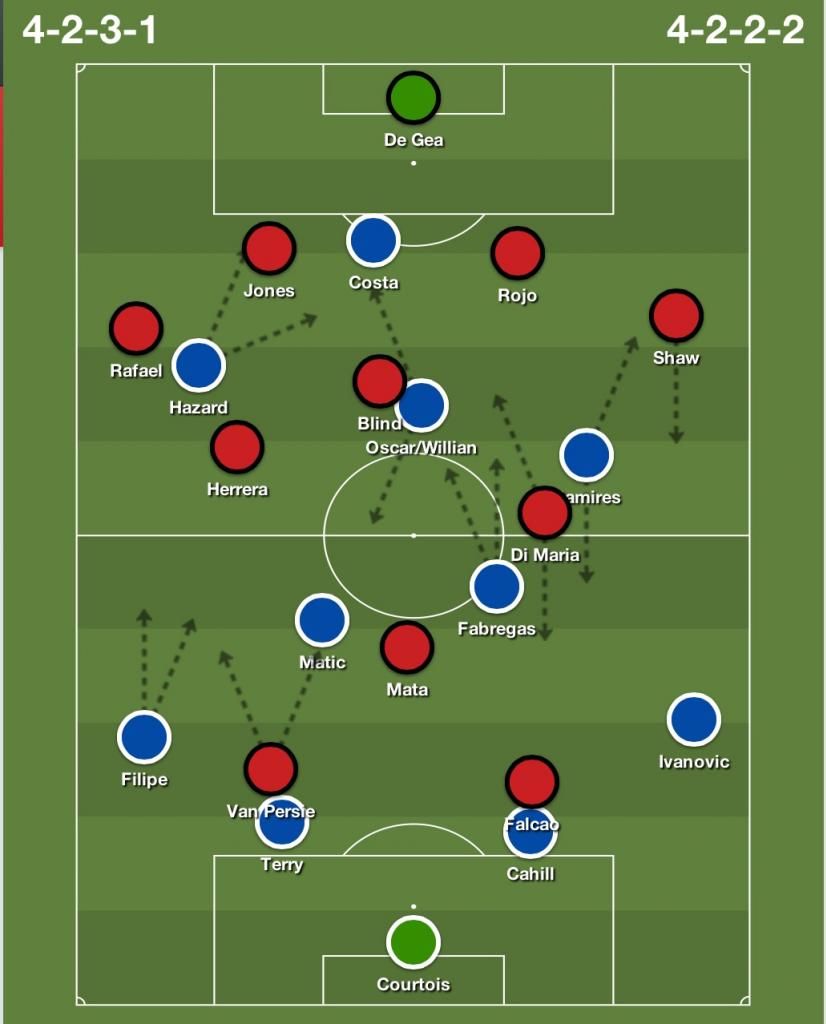 1.  Two up-front – A rather odd statement,  but two clever interchanging front men has come back into vogue recently.  More importantly,  Chelsea has shown signs of struggling against two front men,  most noticeably against Leicester,  but also on many occasions last season.  In particular,  Gary Cahill is notorious for backing off from men running at him,  and uncomfortable at defending the right (left for attacking team) hand channel.  John Terry is also susceptible to pace,  albeit has the cleverness and slyness to cope in a way that Cahill does not.  Chelsea have also struggled against Radamel Falcao,  conceding an admittedly beautifully executed hat-trick 2 years ago.  It is not difficult to imagine a situation with Falcao up 1 vs 1 against Cahill,  Matic having to patrol a space with Mata (a positionally intelligent player at the worst of times),  with Di Maria bursting past Fabregas if any quick break oppertunities emerge.
2.  The push-pull midfield – Given Chelsea's incredibly fluid midfield line-up,  (albeit one that has been incredibly well restrained by Mourinho in big games),  it is easy to see how contrary movements from Di Maria and Herrera may cause Chelsea some problems.  Chelsea could potentially be undone by Van Gaal moving Herrera incredibly deep,  almost on the same line as Blind.  Matic would then find it difficult to move so high up the pitch in isolation.  For the whole team to do so would risk Di Maria or Mata getting space to run at Chelsea's back four,  if the whole team was to move up,  space in behind would be conceded.  If Herrera moves forward at a significantly slower pace than Di Maria,  and Fabregas is even caught slightly too high up the pitch,  Chelsea could be undone.                                                                                                                                                                                                                                                                                                                                                                                                However, Chelsea clearly remain the favourites,  and have one particular weapon tactically.
1.  Ramires:  The best 'negator' in world football – The title of most useful negator (namely,  the player who can most effectively be used as a tactical weapon to prevent a particular strategy or player of the opposition),  used to go to Ji Sung Park.  Ramires is now a fine contender for the title.  Initially used as a box to box midfielder to compensate for Lampard's declining stamina,  he then turned into a fine defensive wide-player,  tracking full backs (on either side of the pitch),  bursting past them in transitional phases of play.  He is now being used again out-wide,  often in a very narrow right sided role to add energy and bustle to a team who can be outnumbered without his presence.  He could easily help to track Di Maria,  or at least stop him receiving the ball (though the potential threat of Luke Shaw is also a worry).  United also appear to be eminently pressable,  Rojo doesn't look amazingly composed,  Rafael isn't exactly concentrated the whole time,  while Blind will be persistently harried by Oscar,  something that many luminaries (including the wonderfully composed Pirlo) have struggled to cope with.  Given Mourinho's relative emphasis on pressing,  it would not be atypical to see a harrying start,  followed by a sudden dip in intensity,  dropping into an asymmetrical 4231/433,  exploiting spaces that open up wide of Daley Blind on the counter attack.  Of course,  Mourinho may opt for Willian in a similar system,  which would indicate a more reactive,  less intense defensive structure.  The latter is more in keeping with traditional big game Mourinho,  but he could easily opt for an aggressive press for fear of letting United get into any rhythm,  especially with Daley Blind's undoubted quality on the ball.
2.  Eden Hazard – One of the best dribblers in world football has been developing an end product.  Eden Hazard has been crucial to Chelsea's start,  though often indirectly in ways difficult to statistically quantify.  If the formations above are correct,  Hazard will quite likely have an oppertunity to easily drift into Blind's zone,  or get 1 vs 1 with Rafael.  This is incredibly dangerous considering how incredibly good a dribbler Hazard is,  and with space to drift into,  will inevitably cause United problems.
3.  Full-back width –
Mourinho has been very hesitant to use an attacking left-back for his whole tenure at Chelsea.  On Sunday,  I suspect Filipe Luis will buck that trend.  With United's diamond being particularly narrow on the right hand side,  lots of space will emerge for one of the best attacking left backs in world football.  Lots of running crosses from Hazard lay-offs should be anticipated,  sometimes expect infield drifts if Hazard chooses to attack Rafael directly.
Prediction:
A tight and cagey 1-2 win for Chelsea,  courtesy of Eden Hazard dribbles inside and outside Rafael.
OW 25/10/14